In July of 2009 I had the great pleasure of meeting a little rat terrier named Lolabelle. She had been diagnosed with a rare form of pancreatic cancer called insulinoma in January of 2009 and her prognosis was grave. In fact when I met her she was expected to succumb to her disease practically at any moment in time.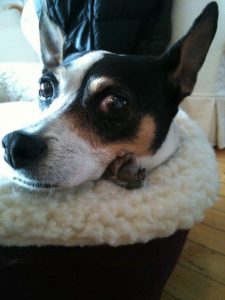 Lolabelle lives with Laurie Anderson and Lou Reed who were very concerned because they had to go out of town and felt they wanted to do something special for her in their absence.
That is when I came into the picture. I suggested engaging Lolabelle's mind, teaching her new things to elevate her mood and alleviate her boredom.  She had been surrounded by music all of her life so I proposed teaching Lola to play piano/keyboards, among other things.
I had taught my own dogs to play the piano to a limited extent ( they are too big and would break the keys in enthusiastic moments).
I have a background in music myself and my idea was that teaching dogs something that would give them feedback of sound would be more amusing than teaching them to go get the TV remote, for example.
To read about Lolabelle started to thrive and see some special videos of her playing the piano, see Lolabelle Part 2.